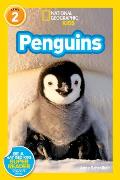 We have been wrapping our unit on informational writing this week by
studying penguins. Kiddos spent some time working with a partner to read the National Geographic eBook,
Penguins
. While they were reading they took notes on interesting facts. We then used these notes to create an informational paragraph about penguins.
We are now using our paragraphs to create a digital version of our research. As I mentioned earlier in the week, we used Popplet to web what we knew about penguins. Today, we again used the Pics4Learning site for copyright-free images of penguins- you can read more about this site here. We then imported our images into an app called, Skitch where students then labeled various features of penguins. These diagrams, along with our Popplets, will be inserted into our Doodlecast stories.
Skitch was very easy to use and students were able to independently use this app after just a brief introduction. The whole process of showing the app, discussing appropriate image selection (things such as image quality and size), finding and importing our images and then labeling took most 30 minutes. This was the 1st time we have used Skitch so I was happy with that time frame. I've found that with most apps, by the time we use them for the 3rd time, kiddos are flying through independently.